In Memory
Larry Brown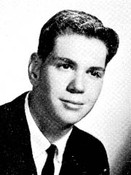 LARRY MYRON BROWN

October 27, 1946 to June 20, 2015
On June 20th, 2015 Larry Myron Brown passed away peacefully in his sleep. Larry spent his life surrounded by friends and family, traveling the globe and making incredible memories. Larry served in the Navy. He was also a loud and proud voice in the gay community. He held the Mr. Gay Spokane #24 title from 2008-2009 as well as Emperor #34 from 2009-2010. He was an active volunteer with the Friends of SAN and was well known for operating one of the most popular gay bars in Spokane, Dempseys Brass Rail. He also owned and operated Johnstone Supply with his father, Willis, and ex-wife and friend, Toni LaChapelle, for several decades.

Larry was a friend to many and the beloved patriarch of his family. Through Larry's generosity, his family was able to travel to Guatemala in 2012 to meet his great niece's fiancé. Countless trips were facilitated by Larry for his friends and family: from Puerto Vallarta to Hawaii and numerous fun-filled locations in between. He created unforgettable memories that would not have been possible without him.

Larry is survived by his twin sister, Judy Atkisson (Ron), nephew, Dale Atkisson, niece, Lenaya Wilhelm (Bill), great niece, Christina Salguero (Geovani), great nephews, Shawn Meredith and Drew Atkisson, lifelong friend Steve Rodenbough (Marshall), his Johnstone Supply family, and friend, Leonard Jenkins-Ellsworth (Mike). A special thanks to Michael Winters, who lovingly cared for Larry for the last six years and has become another member of our family. Larry is preceded in death by his mother, Geneive and father, Willis.

To honor Larry's wishes and his love of throwing parties there will be a Hawaiian-themed Celebration of Life at the Davenport in the Marie Antoinette ballroom on Saturday, June 27th from 4:00-7:00 pm. In lieu of flowers please send donations to Spokane AIDS Network.